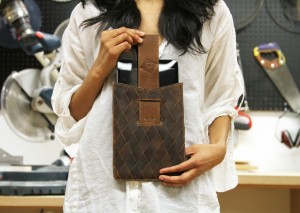 Mansi Gupta '10 has gone from being a computer science and economics major at Bryn Mawr to being a designer.
Mansi recently graduated with a master's degree from New York's School of Visual Arts and has co-founded TRMTAB, a company that upcycles waste created in traditional leather good factories to create refined leather products, currently for tech devices.
The company has officially launched thanks to a successful Kickstarter campaign in which they raised just over $25,000, enough to move from prototypes to a limited edition collection of their merchandise, which includes one-of-a-kind sleeves for macbooks, iPads, iPhones, and other tablets.
TRMTAB's products are currently being created using waste from Prachi Leathers, located in Kanpur, India, and owned by Mansi's family. During the Kickstarter campaign, Prachi Leathers also created an education fund for the daughters of their employees—for every sleeve sold via Kickstarter, they pledged to donate $5 towards the fund.
From the TRMTAB website:
The founders were inspired by their personal hero, systems theorist Buckminster Fuller. "Call me trimtab," he famously said referring to a tiny surface on the end of a ship rudder. With a little pressure, it can change the direction of the ship. An individual can be a trimtab by making small changes that lead to a big impact.