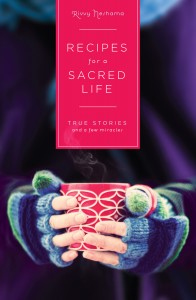 Recipes for a Sacred Life: True Stories and a Few Miracles, the recently published book by Rivvy Neshama '63, was selected by Redbook magazine as its Book Club pick for January 2014. Neshama is a first-time author who has previously written for Ms., Glamour and the New York Times.
Of its selection, Redbook editors wrote: "Recipes for a Sacred Life, a collection of short tales by Rivvy Neshama, left us moved — and changed. Her wise, poignant, funny, and inspiring real-life anecdotes remind you to appreciate every moment, even the less-than-happy ones…especially during a season that has us all thinking a lot about fresh starts."
Reviews for Recipes for a Sacred Life have also appeared in FIRST for Women, Publishers Weekly, Science of Mind, and Women's Adventure Magazine. Spirituality & Health featured a story from the book in its December issue.
An interview with Neshama and a book review can be found on Redbook's website.