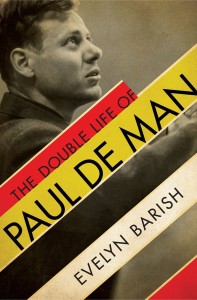 Evelyn Barish '56 has written a new biography of Yale literary theorist Paul de Man, which was featured by the Chronicle of Higher Education.
The Double Life of Paul de Man is an investigative biography over two decades in the making. It chronicles how de Man rose to the pinnacle of influence in the halls of academe and formed what would infamously be known as Deconstruction: a literary movement that conveniently eschewed narrative and biography.
According to the press release, Barish, a former teaching colleague of de Man's, followed a lengthy document trail and conducted nearly 200 interviews across five countries to form a better picture of the respected professor worshiped for his erudite ideas and almost impenetrable lectures.  What emerges is a kind of academic grifter who was incapable of telling the truth yet always one step ahead of detection, evading accusations of Nazi collaboration, bigamy, blackmail, and forgery.
The Double Life of Paul de Man will be published in March 2014.