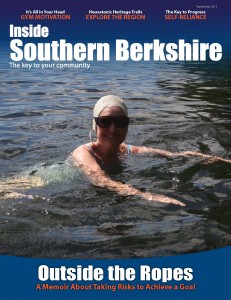 Leslie Kandell '58 has written an article for the September issue of Inside Southern Berkshire magazine about how—after more than 40 years of swimming safely in the confines of the roped off area of Laurel Lake—she finally took the plunge and attempted to make it to the waterhole's other side.
From the article:
I looked across the dark New England water and decided if I could find another swimmer, I'd go for it. There was a guy with gray hair and a cigarette, in shape, who swam often and then sunned on a towel. But he wasn't at the beach then, so I swam out a way and hailed another older guy. (The few who swim outside the ropes are older — maybe they don't have much to lose either.)
He was willing to go, but felt a little nervous about swimming. "Don't worry," I said with manic determination, "you're safe with me."
A photo of Kandell appears on the magazine's cover.