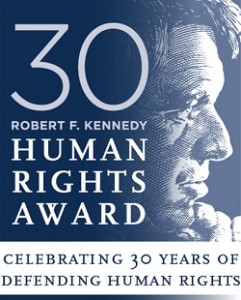 Ragia Omran '94 was selected as the honoree for the 2013 Robert F. Kennedy Human Rights Award, now in its 30th year. The award initiates a partnership to support Omran's efforts to advance  women's rights, the rule of law, and democracy in Egypt through human rights legal advocacy.
According to the press release, Omran has been at the forefront of the human rights movement in Egypt for 20 years. In 1994, she founded and led a women's rights campaign that successfully outlawed the practice of female genital mutilation in public hospitals. At the height of the Arab Spring, she founded the Almasry Alhurr Movement for government accountability and public participation. She has personally represented hundreds of civilians ordered to military trial as part of the Front to Defend Egypt Protesters and she is a leading member of Egypt's legal advocacy organizations, including: the New Woman Foundation, advancing reproductive rights and the political participation of women; the Hisham Mubarak Law Center, representing victims of torture, arbitrary arrest, and detention; and the No to Military Trials for Civilians Campaign, fighting to end the military trials of Egyptian civilians.
Mrs. Robert F. Kennedy will present Ms. Omran with the 2013 Robert F. Kennedy Human Rights Award in Washington, D.C., in a ceremony in November. She joins 44 RFK Human Rights Award Laureates from 26 countries as the recipient of the 30th annual prize, initiating a multi-year partnership with the RFK Center.
Founded in 1968, the Robert F. Kennedy Center for Justice and Human Rights (RFK Center) works to realize Robert Kennedy's vision of a more just and peaceful world. The RFK Center has honored journalists, authors, and human rights activists who, often at great personal risk and sacrifice, are on the frontlines of the international movement for human rights and social justice.