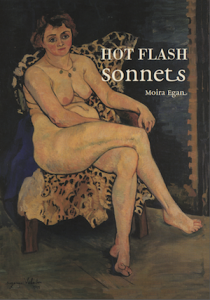 Moira Egan '84 recently published a new collection of poetry, Hot Flash Sonnets, with positive reviews. This is the fifth poetry collection by Egan. Hot Flash Sonnets explores the sultry joys and humorous indignities of becoming a woman of a certain age.
The collection has been featured on Poetry Daily and The Signal, and was reviewed by The Baltimore Sun. Sonnets have also been published in such journals as Baltimore Review, Bellevue Literary Review, Columbia Review, Little Patuxent Review, Mount Hope, Parnassus: Poetry in Review, Passager, So to Speak, The Same, and The Sewanee Theological Review. Poems have also garnered honors in the 2012 literary competition of the Baltimore Review (on the theme of heat) and in the sonnet category of the 2012 Soul-Making Keats Literary Competition of the National League of American Pen Women.
Along with the five poetry collections, Egan is also the author of an anthology and nearly a dozen books in translation in Italian. She has taught at John Cabot University and the Summer Program at St. Stephen's School in Rome.