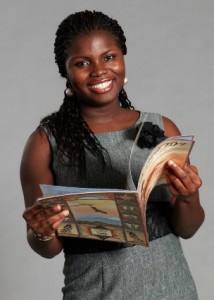 Deborah Ahenkorah '10 was selected as one of the inaugural members of the New Voices Fellowship at the Aspen Institute. This fellowship is an initiative designed to bring more expert voices from the developing world into the global development discussion.
According to their press release, "The fellowship, supported by the Bill & Melinda Gates Foundations, offers development experts from Africa and other parts of the developing world a year-long program of media support, training, research, and writing under the guidance of experienced mentors and trainers."
Four years ago, Ahenkorah co-founded Golden Baobab, a social enterprise that discovers, trains, and enables African writers and illustrators to produce children's literature. The organization includes an outreach initiative, which organizes programs and workshops, and a literary agency connecting writers and illustrators to publishers.