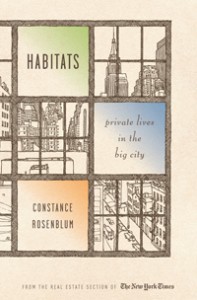 Habitats: Private Lives in the Big City is the latest book by Constance Rosenblum '65, a longtime staffer at The New York Times.
From the publisher:
"There may be eight million stories in the Naked City, but there are also nearly three million dwelling places, ranging from Park Avenue palaces to Dickensian garrets and encompassing much in between. The doorways to these residences are tantalizing portals opening onto largely invisible lives. Habitats offers 40 vivid and intimate stories about how New Yorkers really live in their brownstones, their apartments, their mansions, their lofts, and as a whole presents a rich, multi-textured portrait of what it means to make a home in the world's most varied and powerful city.
"These essays, expanded versions of a selection of the Habitats column published in the Real Estate section of The New York Times, take readers to both familiar and remote sections of the city—to history-rich townhouses, to low-income housing projects, to out-of-the-way places far from the beaten track, to every corner of the five boroughs—and introduce them to a wide variety of families and individuals who call New York home. These pieces reveal a great deal about the city's past and its rich store of historic dwellings. Along with exploring the deep and even mystical connections people feel to the place where they live, these pieces, taken as a whole, offer a mosaic of domestic life in one of the world's most fascinating cities and a vivid portrait of the true meaning of home in the 21st-century metropolis.
"Prior to writing the Habitats column, Rosenblum was the editor of the paper's City section and a former editor of the Arts and Leisure section. She is also the author of Boulevard of Dreams: Heady Times, Heartbreak, and Hope Along the Grand Concourse in the Bronx