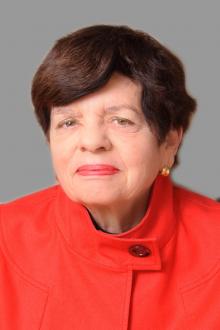 Alice Rivlin '52 will be awarded The Robert M. Ball Award for Outstanding Achievement in Social Insurance by the National Academy of Social Insurance (NASI) in a ceremony in June.  Each year, the award is presented to an individual whose recent work has made a significant impact on the U.S. social insurance system.
According to the press release, Rivlin has been "recognized as one of the most distinguished and influential voices in policy dialogues on economic and fiscal issues that will shape the trajectory of social insurance."
Currently a visiting professor at Georgetown University and senior fellow in economic studies at the Brookings Institution, Rivlin also taught at Harvard and George Mason universities and The New School, served on the board of directors of several corporations, and served as president of the American Economic Association. With her economic and budget expertise ranging from Social Security to Medicare to disability policy, Rivlin has produced numerous publications and writings.
Some of Rivlin's achievements include, serving as founding director of the Congressional Budget Office, directing the Office of Management and Budget during the Clinton Administration, and serving on President Obama's National Commission on Fiscal Responsibility and Reform. She received a MacArthur Foundation Prize Fellowship in 1983 and the Moynihan Prize in 2008.
The award honors Robert M. Ball, who served as Commissioner of Social Security from 1962 to 1973, and was an important participant in every Social Security development of the past 60 years. An award ceremony will be held to honor Rivlin in Washington, D.C. on Tuesday, June 25.
More information about the event and Rivlin's accomplishments can be found in the NASI's press release.