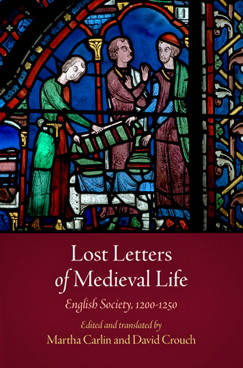 Lost Letters of Medieval Life: English Society, 1200-1250, a book co-written by Martha Carlin '75 and David Crouch, has recently been published by University of Pennsylvania Press. The book tells the story of early 13th-century England and the correspondences of people from all classes, from peasants and shopkeepers to bishops and earls.
These documents include letters between masters and servants, husbands and wives, neighbors and enemies, and cover a wide range of topics. Carlin and Crouch have discovered correspondences between ordinary people, which were not thought to have survived or existed at all, in manuscripts called formularies—the collections of form letters and other model documents that for centuries were used to teach the arts of letter-writing and keeping accounts. This is the first time these letters have been printed.
Carlin is professor of history at the University of Wisconsin-Milwaukee and author of Medieval Southwark and London and Southwark Inventories, 1316-1650: A Handlist of Extents for Debts.