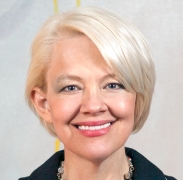 Kim Sajet, M.A. '05, was named director of the Smithsonian's National Portrait Gallery, effective April 1. Sajet, who is currently president and CEO of the Historical Society of Philadelphia, will lead a staff of 65 and a collection of about 21,000 objects.
The National Portrait Gallery, established by Congress in 1962, tells the history of the United States through the individuals who have shaped its culture. The museum mission is to inspire visitors from around the world through visual arts, performing arts, and new media that connect people and their stories to the American experience.
Sajet has been president and CEO of the Historical Society of Pennsylvania, headquartered in Philadelphia, since 2007. Before that, she was senior vice president and deputy director of the Pennsylvania Academy of the Fine Arts for seven years. From 1998 until 2001, Sajet served as director of corporate relations at the Philadelphia Museum of Art, and served first as curator and then the director of two Australian art museums from 1989 until 1995.
Sajet earned a master's degree in art history at Bryn Mawr College; a master's degree in business administration at Melbourne University Business School in Australia; a bachelor's degree, also in art history, at Melbourne University; and a degree in Museum Studies from Deakin University in Australia. She has completed arts leadership training at the Harvard Business School, the Getty, and National Arts Strategies.