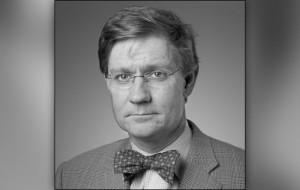 Clarence Burton Sheffield, Jr., Ph.D. '99, has been named the first recipient of the Eugene Fram Chair in Applied Critical Thinking at Rochester Institute of Technology (RIT). A faculty member in RIT's College of Imaging Arts and Sciences since 2003, Sheffield began his three-year appointment on September 1.
According to RIT's press release, the Eugene Fram Chair will be responsible for providing "campus-wide leadership in cross-disciplinary approaches to critical thinking with the goal of assuring that every RIT student obtains critical thinking skills prior to graduation."
Sheffield is a distinguished scholar of modern Scandinavian art, architecture, and design, and holds an undergraduate degree in philosophy from the University of Utah, a master's degree in art history from the University of Colorado, Boulder, and a doctorate in history of art from Bryn Mawr College.