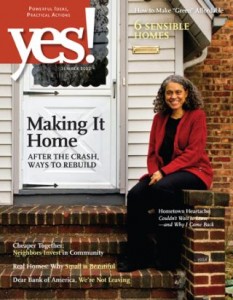 YES! Magazine featured Mindy Fullilove '71 on the cover of their summer issue "Making it Home." The issue included an article co-written by Fullilove and her daughter, Molly Rose Kaufman, about their hometown.
The article, titled "How I Learned to Love My Hometown," spotlights the history that brought three generations back to Orange, New Jersey, a town Fullilove once worked hard to escape.
Fullilove graduated from Bryn Mawr College in 1971 with a bachelor's in history and is now a professor of psychiatry and public health at Columbia University. Her latest book is Root Shock: How Tearing Up City Neighborhoods Hurts America and What We Can Do About it.