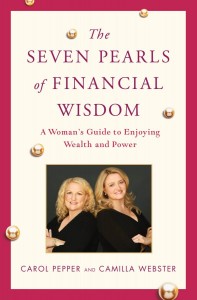 The Seven Pearls of Financial Wisdom: A Woman's Guide to Enjoying Wealth and Power, the recently published book co-written by Carol Pepper '84 and Camilla Webster, has received critical acclaim for its contemporary financial guidance for women.
"The Seven Pearls of Financial Wisdom offers women guidance in an era of uncharted opportunities and new financial choices," write the authors on the book's website. "A woman may set up a foundation in her twenties—when she sells her first company, support her family as the primary breadwinner in her thirties, start a new career in her sixties and remarry in her seventies."
The Seven Pearls of Financial Wisdom received praise from The Wall Street Journal and Huff Post Women, and both authors were featured on The Wall Street Journal Report with Maria Bartiromo.
Pepper is CEO and founder of Pepper International, which provides comprehensive financial advising and services to families. Prior to forming her own company, she had a career as a private banker for JP Morgan, Citibank, and Credit Suisse and was a senior portfolio manager at the Rockefeller Family Office, where she managed over a billion dollars for individuals, trusts, and foundations.
Pepper speaks at conferences around the globe, writes articles on high net worth money management, and is regularly interviewed by the media.
Pepper graduated cum laude from Bryn Mawr College in 1984 with a bachelor's degree in philosophy and a minor in Russian language. She earned an MBA in entrepreneurial studies from Columbia University Business School in 1989.