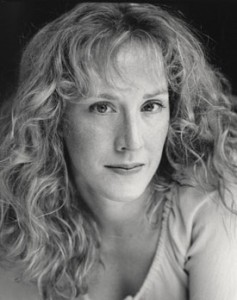 Former Hepburn Fellow Sarah Schenck '87 produced a segment on childhood obesity for PBS' Need To Know that aired on August 17.
The segment, titled "Saving Carla," reports on the nation's high obesity and diabetes rates, which according to the program, are disproportionately impacting children in low-income communities.  While examining how the nation's obesity problem resonates for a family in the Bronx, Schenck takes an in-depth look at the Department of Health's campaign to reverse the dangerous trends of obesity and diabetes.
In addition to producing the segment, Schenck is the on-camera correspondent for the piece. Margaret Sclafani '08 worked as a camera person and Maddy French '14 was an intern for the project.
Schenck became a filmmaker after a career in public-education policy. In 2004, she was nominated for an Independent Spirit Award for producing Virgin, directed by Deborah Kampmeier and starring Robin Wright Penn and Elisabeth Moss; she made her directorial debut with Slippery Slope, a comedy about feminism and pornography that won the "Best Feature" award at the 2007 Broad Humor Film Festival in Los Angeles.
In addition to her work for PBS, Schenck has made numerous documentaries for nonprofit organizations such as Amnesty International and Project Renewal and is member of Wide Iris, an alliance of filmmakers focused on issues of social justice, environmental sustainability, and arts advocacy.
Watch "Saving Carla" on PBS.