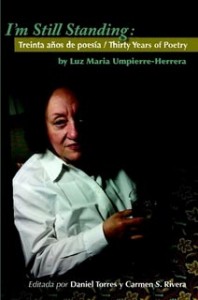 Luz María (Luzma) Umpierre-Herrera, Ph.D. '78, is the 2011 recipient of the Michael Lynch Service Award from the GL/Q Caucus for the Modern Languages. This award is given each year to an academic activist in recognition of extraordinary contributions in the LGBT community.  The award was presented to Umpierre by GL/Q  Caucus President and fellow activist Lourdes Torres during an award ceremony at the Modern Language Association's annual convention in Seattle, Wash., in January.
With a scholarly record that includes two books of literary criticism, seven collections of bilingual poetry, and more than 40 scholarly articles, Umpierre is also an advocate for the rights of those with AIDS, homeless people, battered women, disabled children, and members of the LGBT community.  This laurel is one of many Umpierre has received for her humanitarian work throughout the years. Other honors include inclusion by the Maine Democratic Party in 2008 in its annual recognition of "Distinguished Women Leaders in Maine"  and a "Lifetime Achievement Award" from all LGBT organizations in New Jersey for her work with those with AIDS.
Umpierre, born in Santurce, Puerto Rico, is the first Latina to win the Michael Lynch award and the first Puerto Rican to win any award at the MLA.