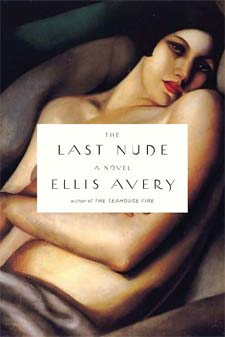 Critics from The Washington Post, The Boston Globe, The San Francisco Chronicle, Vogue, and O: The Oprah Magazine are among those heaping praise on The Last Nude, a novel published in January by Ellis Avery '93.
A fictionalized biography of painter Tamara de Lempicka, the novel recreates the Paris art scene of the 1920s in the story of Lempicka's yearlong affair with Rafaela Fano, the model for Lempicka's most famous painting. Lempicka, who was famous for her Art Deco nudes, rescues Rafaela, a young American, from a life of prostitution. Posing for Lempicka's next six paintings, Rafaela quickly finds herself seduced by the artist, but finds herself questioning Lempicka's loyalty as she watches her manipulate her patrons.
"The left bank in the '20s, famous artists, lots of (bi)sexuality and betrayal—what's not to love about Ellis Avery's romantic novel, The Last Nude?" asks O: The Oprah Magazine. "The Last Nude breaks important ground for literature, and does so with exuberance, skill and grace," The San Francisco Chronicle says.
Avery's last novel, The Teahouse Fire, was the winner of several awards including the American Library Association Stonewall Fiction Award and Lambda Literary Award for Debut Fiction. Her first book, the award-winning memoir The Smoke Week, was published in 2003. "Three Lines, One Road," a collection of haikus written by Avery and Bryn Mawr classmate Melissa Demian '93, was a finalist in the National Poetry Series.  Avery, who was an independent major in performance studies at Bryn Mawr, teaches fiction writing at Columbia University.