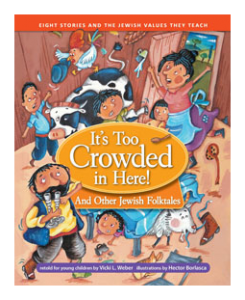 It's Too Crowded in Here! and Other Jewish Folktales, a collection by Vicki L. Weber '78, has won the Sugarman Family Children's Book Award. The prize, given every other year to recognize the best recent contribution to Jewish children's literature, was presented to Weber at the Hyman S. & Freda Bernstein Jewish Literary Festival in Washington, D.C., late this fall.
The collection of eight stories retells some familiar and unfamiliar Jewish folktales and midrashic stories for children aged 4-8, and includes for each a page of material for the adult reader who wants to know a bit more about why the universal values highlighted in these tales are also deeply a part of Jewish tradition.
Mara Bier, director of early childhood initiatives at the Partnership for Jewish Life and Learning and a member of the award selection committee for 2011, said the decision, which was unanimous, reflected the committee's excitement about a the way the book refrains from over-simplifying or 'dumbing down' material for young children. "These are smart stories that treat children as intelligent beings with the capacity for understanding nuance," she said.
Weber, a former Bryn Mawr Trustee who majored in economics at Bryn Mawr and is a chartered financial analyst, had a career on Wall Street before she began writing materials intended to to introduce children and adults to Jewish thought, values, and practices. She published her first book in 1994 and joined the staff of publishing company Behrman House in 2003. It's Too Crowded in Here is her eighth book.