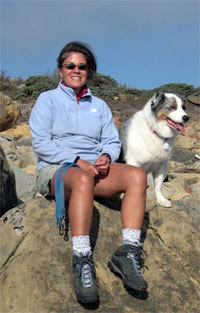 Isabel Montañez '81, a professor of geology at the University of California-Davis, was awarded a prestigious Guggenheim Fellowship last spring to support her research into ancient climate change.
According to the U.C. Davis website, Montañez "uses fossils of animals, plants and soils to study how the climate changed thousands to millions of years ago. Understanding what happened when the planet went through previous dramatic climate change — at the end of the most recent ice age, for example — can give insight into what might be in store as the Earth faces accelerated climate change in the century ahead."
The fellowship will enable Montañez to travel to Ireland and Hawai'i to learn new techniques for evaluating levels of carbon dioxide in the ancient atmosphere. She will apply these new methods to a collection of fossil leaves at the Smithsonian Institution, with the goal of establishing a more accurate record of the climate of 350 to 250 million years ago, a time when geologist believe Earth's climate warmed rapidly.