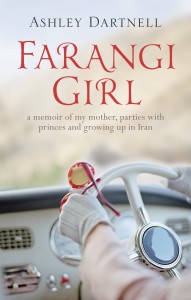 Farangi Girl, a memoir by Ashley Dartnell '80, was published in the United Kingdom this summer by Hodder & Stoughton's Two Roads Books. Poet Maura Dooley calls Dartnell's account of her childhood as a foreigner in prerevolutionary Iran a "vivid, compelling story woven from both politics and desire." Similarly favorable reviews have appeared in a number of British publications, and Farangi Girl was selected by Cosmopolitan Australia as a Cosmo Book Club Choice.
"Ashley Dartnell's mother was a glamorous American, her father a dashing Englishman, each trying to slough off their past and upgrade to a more romantic and exotic present in Iran," says the publisher's description.
"As the story starts, Ashley is eight years old and living in Tehran in the Sixties: the Shah was in power, life for Westerners was rich and privileged. But somehow it didn't all add up to a fairytale. There were bankruptcies and prisons, betrayals and lovers, lies and evasions. And throughout it all, Ashley's passionate and strong-willed mother, Genie."
Farangi Girl is available on Amazon.uk. A list of scheduled readings, including a Bryn Mawr Club of London event, is available at the Two Roads website.