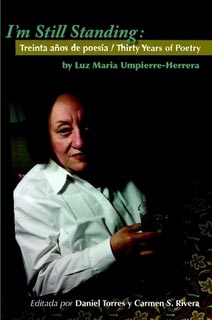 A new anthology of the poetry of Puerto Rican poet, scholar, and human-rights activist Luz María (Luzma) Umpierre-Herrera, Ph.D. '78, has been published. I'm Still Standing: Treinta años de poesía / Thirty Years of Poetry, edited by by Carmen S. Rivera and Daniel Torres, includes an introductory essay by Torres and a biographical essay by Nemir Matos Cintron.
Umpierre writes in both English and Spanish and sometimes uses both languages in a single poem. She is known for her trenchant poetic commentary on the discrimination faced by Puerto Ricans in the mainland United States and for her open discussion of lesbianism, especially in the erotic poetry of The Margarita Poems, published in 1987. Her work has attracted considerable scholarly attention.
Lawrence La Fountain-Stokes, author of Queer Ricans: Cultures and Sexualities in the Diaspora and Uñas pintadas de azul/Blue Fingernails, hails Umpierre as "Una voz hilarante que surge del discrimen, del menosprecio y del dolor y lo transforma en amadísima metáfora al revés. A hilarious, riotous voice, proudly affirming herself as woman, Puerto Rican, Lesbian, thinker, human."
I'm Still Standing is available on Lulu.com.