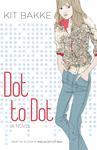 Kit Bakke '68 has published her second book, Dot to Dot, a novel for "middle-grade" (roughly ages 8-12) readers. Yellow Wallpaper praises it as "a banquet table of a book, filled with real and imagined heroes, would be friends, irritating family, cherished memories, new experiences, and leaps through time."
Bakke's website describes Dot to Dot :
Dorothy Mary-Jane, or "Dot," is an ordinary twelve year old girl with ordinary problems until she sees her mother killed by an errant red truck. The memories won't go away; Dot lies down on her ratty Tinkerbell rug and swears she'll never leave it.
Her unpredictable Aunt Tab swoops Dot off to London, saying England is the place to sort out Dot's life. Aunt Tab secretly packs Dot's mother's ashes. Dot packs Tinkerbell along with Dancing on the Edge, a silk collage embroidered by her mother with cryptic lessons from the three famous historical English women Dot is named after. Before she can discover their meaning, however, Dot is appalled by the preponderance of large red trucks in England, by Aunt Tab's unexpected agenda with the ashes, and by an unpleasant but interesting English boy named Nick.
Reading Mary Shelley's Frankenstein, Dot finds the past increasingly intrusive, Aunt Tab increasingly irritating and Nick increasingly present. Dot has to decide whether or not to run away with Nick. As she makes her decision, she packs the richness of the past into her own future without her mother.
 Bakke, a political activist who helped establish a chapter of Students for a Democratic Society at Bryn Mawr during her college years, embarked on a career as a writer at 55, after she had seen two daughters through college and enjoyed professional success on an unusual career track that began with pediatric nursing, traveled through hospital management and ended up in highly remunerative information-systems consulting. Her first book was Miss Alcott's Email, an imaginative hybrid of biography and memoir cast as a correspondence between Bakke and the 19th-century author and activist Louisa May Alcott.