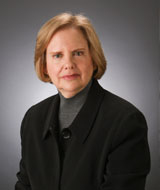 President Barack Obama has appointed Patty Gerstenblith '71 to chair the Department of State's Cultural Property Advisory Committee (CPAC), which advises the administration on its responsibilities under the 1970 UNESCO Convention on the Means of Prohibiting and Preventing the Illicit Import, Export and Transfer of Ownership of Cultural Property. Gerstenblith served a previous term on the committee from 2000 to 2003.
Under the UNESCO Convention, other countries can appeal to the United States to impose restrictions on undocumented archeological and ethnographic materials that have been pillaged and place the requesting nation's cultural heritage in peril. When a country requests that the United States impose import restrictions, that request is sent to the CPAC, which gives recommendations on  how the United States should respond.
Gerstenblith, a distinguished research professor and director of the of the Center for Art, Museum and Cultural Heritage Law at DePaul University College of Law in Chicago, majored in classical and Near Eastern archaeology at Bryn Mawr and earned a Ph.D. in art history and anthropology from Harvard University before going on to law school at Northwestern University.
The founding president of the Lawyer's Committee for Cultural Heritage Preservation, Gerstenblith is widely recognized as a top expert in the field of cultural-heritage law. She is the author of the casebook Art, Cultural Heritage and the Law, among other publications, and has served as editor-in-chief of the International Journal of Cultural Property. She has served as the chair, senior advisor, and vice chair of the Art and Cultural Heritage Law committee of the American Bar Association Section on International Law and is a member of the board of directors of the U.S. Committee of the Blue Shield.