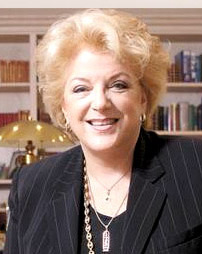 On Tuesday, June 7, Carolyn Goldmark Goodman '61 cruised to victory in the Las Vegas mayoral race, eclipsing her opponent by a 60-to-40 percent margin.
Goodman, the founder and longtime board president of the Meadows School, succeeds her husband, Oscar Goodman, in the mayor's office. Oscar Goodman enjoyed enormous popularity as the city's mayor, winning re-election to the office three times. Term limits prevented him from seeking a fifth term in office.
The Goodmans moved to Las Vegas in the 1960s, and Carolyn earned a master's degree in counseling from the University of Nevada, Las Vegas, in 1973. She has worked for decades as an educational-advancement consultant and has served as a college counselor, but her primary work has been with the Meadows School, Nevada's only nonsectarian, nonprofit K-12 college-preparatory school.
Goodman founded the Meadows School in 1984 with 140 students in grades K-6. The school now has 897 students in pre-kindergarten through high-school classes, employs 150 people, and claims a 100-percent four-year-college placement rate for its graduates.