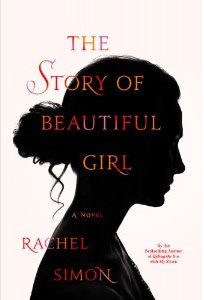 Update: On May 29, Story of a Beautiful Girl debuted on The New York Times Bestseller List. It has received glowing reviews in publications nationwide and was selected as the inaugural title for a new e-book club sponsored by Borders.
Rachel Simon '81, who drew national attention with her memoir Riding the Bus With My Sister, is in the spotlight again after the recent publication of her new novel, The Story of  Beautiful Girl.
Beautiful Girl is the story of Lynnie, a young white woman with a developmental disability, and Homan, a young African-American deaf man, who together escape involuntary confinement at the Pennsylvania School for the Incurable and Feebleminded. The couple finds refuge in the home of a retired schoolteacher, who agrees to hide Julia, the baby Lynnie has just delivered, from the authorities who soon catch up with the pair. Lynnie is returned to confinement and Homan escapes; the novel follows the stories of these characters over the next 40 years as the couple struggles against overwhelming odds to reunite.
Beautiful Girl generated intense prepublication interest, inspiring Grand Central Publishing to send Simon on a ten-city tour across the U.S. and Canada before the book was released on May 4. The Independent Booksellers Association has given it pride of place as the top pick on its May 2100 "Indie Next List," and it is a selection of the Literary Guild, the Mystery Guild, QPB and Doubleday book clubs. USA Today mentioned it as one of "10 books not to miss in May."
See Simon's website for a list of upcoming readings.