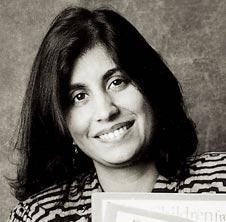 Maya Ajmera '89, the founder of the Global Fund for Children, has been named a 2011 Henry Crown Fellow, joining a select group identified as "the next generation of community-spirited leaders" by the Aspen Institute.
Each year, the Institute selects 20 Crown Fellows, "accomplished entrepreneurial leaders" who are "looking toward the broader role they might take on in their communities or globally." Individuals may not apply for the program, but must be nominated by affiliates of the program or recognized leaders in the business and professional communities.
The two-year program includes a series of seminars and individual leadership projects devised by the fellows.
Alumni of the program include Newark, N.J., Mayor Corey Booker; U.S. Education Secretary Arne Duncan; Netflix founder Reed Hastings; Ken Ofori-Atta, the founder of Ghana's leading investment bank; Massachusetts Governor Deval Patrick; and other distinguished leaders in both business and public service around the world.
Ajmera, who served as a fellow of Bryn Mawr's Katharine Houghton Hepburn Center during the 2008-'09 academic year,  founded the Global Fund for Children in 1994 after earning a Master of Public Policy degree from the Sanford Institute of Public Policy at Duke University. GFC makes small grants to innovative community-based organizations working with some of the world's most vulnerable children and youth. Since its founding, GFC has awarded more than $20 million in capital to over 400 grassroots organizations in 75 countries, serving more than a million children.
The organization is complemented by a dynamic media program that, through children's books, documentary photography, and film highlights the issues affecting children and celebrates global diversity. Ajmera is the co-author of many award-winning GFC books including Children from Australia to Zimbabwe and Extraordinary Girls.