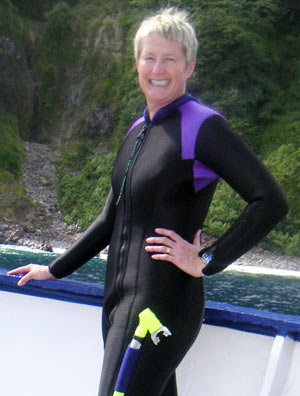 Mary E. "Mel" McCombie has been has been awarded a Fulbright Scholar grant to teach and conduct research at the American University in Cairo  for the 2011-12 academic year. She is the first such scholar in this position with a background in visual culture and art history.
McCombie's research project compares advertising for products aimed at women in both the United States and Egypt. How are visual devices employed? What cultural assumptions underpin the advertisements and marketing of multi-national brands such as Revlon and Olay? McCombie will compare print media, particularly magazines, and employ the methodologies of art history, business, geography, and sociology.
A certified divemaster and committed coral-reef conservationist, McCombie is eager to pursue this avocation in Egypt. "The Southern Red Sea in particular is a newly opened scuba diving area, and I intend to spend time there exploring it and helping with conservation projects," McCombie says. "I've served on the board of the Coral Reef Alliance, support the Reef Environmental Education Foundation and Seacology, and have dived all over the world—but not the Southern Red Sea!"
McCombie, who was an undergraduate history-of-art major at Bryn Mawr, teaches in the American studies program at Trinity University in Connecticut. Her research focuses on visual culture, treating topics such as the anthropology of tourism, space and social control, the cultural significance of Barbie dolls, references to classical art at Caesar's Palace in Las Vegas, and the "Art in Public Places" program sponsored by the National Endowment for the Arts.