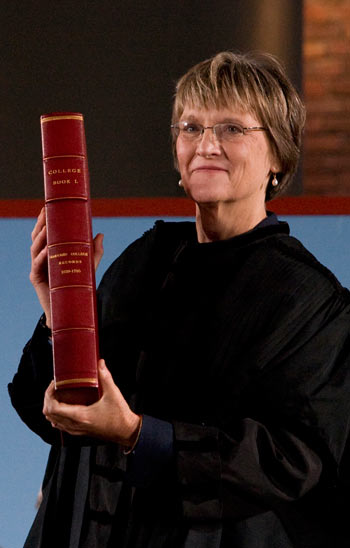 Historian and Harvard University President Drew Gilpin Faust '68 has been selected to deliver the 2011 Jefferson Lecture in the Humanities, characterized by the National Endowment for the Humanities as "the most prestigious honor the federal government bestows for distinguished intellectual achievement in the humanities."
Faust will give the lecture, titled "Telling War Stories: Reflections of a Civil War Historian," on Monday, May 2, 2011, at 7:30 p.m. at The John F. Kennedy Center for the Performing Arts in Washington, D.C. The lecture's topic is representations of war throughout history.
The Jefferson Lectureship is hardly the first academic laurel Faust has earned. An eminent historian of the Civil War and the American South, Faust has published six highly regarded scholarly books on these subjects. The most recent, This Republic of Suffering: Death and the American Civil War, was awarded the Bancroft Prize in 2009, was a finalist for both a National Book Award and a Pulitzer Prize, and was named by The New York Times as one of the "10 Best Books of 2008."
Faust's achievements in scholarship have been matched by her success as an academic leader. She spent much of her career at the University of Pennsylvania, where she was twice honored for her teaching. She eventually became the Annenberg Professor of History and the director of the women's studies program.
In January 2001, Faust became the first dean of the Radcliffe Institute. She was widely applauded for her transformation of the former women's college into an interdisciplinary community of scholars, winning over many Radcliffe alumnae who had bristled at the decision to eliminate the college's teaching function.
In 2005, the then-president of Harvard, Lawrence Summers, sparked a nationwide controversy by suggesting that innate differences between men and women might account for women's underrepresentation in math, science and engineering fields. In response to criticism from Harvard's faculty, Summers appointed Faust to lead task forces charged with finding ways to reduce impediments to women's achievement at Harvard. Two years later, Faust became the first woman appointed to the presidency of Harvard.