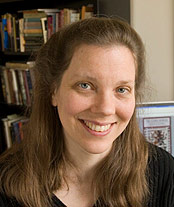 Camilla Townsend '85 has won a Guggenheim Fellowship to continue her study of Aztec history. The Guggenheim, a grant made annually by the John Simon Guggenheim Memorial Foundation to "men and women who have already demonstrated exceptional capacity for productive scholarship or exceptional creative ability in the arts," was awarded to at least two Bryn Mawr alumnae this year (see earlier post about the grant awarded to Sharon Gerstel  '84).
"When the Spanish arrived in Mexico," Townsend explains, "they taught the indigenous people the Roman alphabet, the better to read the Bible. In the privacy of their own homes, however, many of the native people used the phonetic alphabet to write down their own traditional histories, which until then had been passed on orally. They wrote in their own language, Nahuatl, sounding out the words using the Roman letters." Townsend has been studying Nahuatl since 1998 and is beginning to see fascinating patterns in the way they conceptualized their own history in these documents that they produced far from the prying eyes of the Spaniards.
Townsend taught history for eleven years at Colgate University and has been at Rutgers University for the past four years. She has edited two books and written three, including Pocahontas and the Powhatan Dilemma (2004) and Malintzin's Choices: An Indian Woman in the Conquest of Mexico (2006). Among her publications is a much-discussed American Historical Review article concerning the fact that there is no evidence that the Aztecs ever perceived Hernando Cortes as a god returning from the East and suggesting that this familiar narrative seems to have been born later, answering the needs of the European masculine imagination.
Prior to the Guggenheim, Townsend has received grants from the Fulbright Commission, the American Association of University Women, the National Endowment for the Humanities, and the American Philosophical Society.