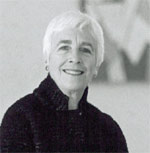 Emily Rauh Pulitzer '55, the founder and chair of the Pulitzer Foundation for the Arts in St. Louis, has received the Duncan Phillips Award from the Phillips Collection in Washington, D.C. The award celebrates "the spirit of collecting and philanthropy represented by the life of museum founder Duncan Phillips."
After graduating from Bryn Mawr with a degree in the history of art, Rauh spent a year at the Ecole du Louvre in Paris and then worked as a curatorial intern at the Cincinnati Art Museum. In 1957 she took a position as assistant curator of drawings at Harvard University's Fogg Museum, working under fellow Bryn Mawr alumna Agnes Mongan '27, who was the museum's first female curator. Pulitzer earned a master's degree in art history from Harvard in 1963 and in 1964 became the curator of the St. Louis Art Museum, a position she held until 1973.
Pulitzer has been a member of the Museum of Modern Art's painting and sculpture committee since 1985 and its vice chair since 1996; she has served for many years as a trustee of MOMA and of the Contemporary Art Museum St. Louis.
In 2001, Pulitzer founded the Pulitzer Foundation for the Arts in St. Louis. She now serves as its chair.