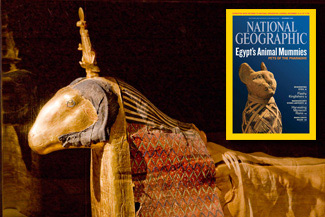 The cover story in the November issue of National Geographic focuses on the work of Salima Ikram '86, a professor of archaeology at the University of Cairo and the co-director of the Animal Mummy Project at the Egyptian Museum.
"Specializing in zooarchaeology—the study of ancient animal remains—Ikram has helped launch a new line of research into the cats and other creatures that were preserved with great skill and care," National Geographic says. "As a professor at the American University in Cairo, she adopted the Egyptian Museum's languishing collection of animal mummies as a research project … Today the animal mummies are one of the most popular exhibits in the whole treasure-filled museum."
In addition to her work on animal mummies, Ikram is the co-director of a major excavation project at the North Kharga Oasis, a large area west of Luxor, Egypt, containing archaeological sites dating from the prehistoric period to the nineteenth century AD. She is the author of 14 books, including nine volumes about ancient Egypt for young readers.