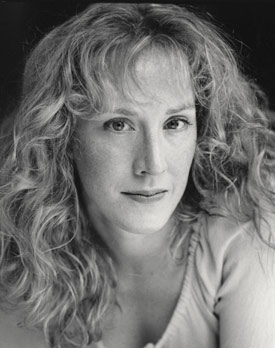 Filmmaker Sarah Schenck '87 has been selected as a 2009-10 Fellow of Bryn Mawr's Katharine Houghton Hepburn Center. The Hepburn Fellows Program brings to Bryn Mawr's campus individuals who bridge academics and practice in nontraditional or unconventional ways in any of the three broad areas the Hepburn Center supports: film and theater, women's health and civic engagement.
Schenck became a filmmaker after a career in public-education policy. In 2004, she was nominated for an Independent Spirit Award for producing Virgin, directed by Deborah Kampmeier and starring Robin Wright Penn and Elisabeth Moss; she made her directorial debut with Slippery Slope, a comedy about feminism and pornography that won the "Best Feature" award at the 2007 Broad Humor Film Festival in Los Angeles. Four other Bryn Mawr graduates—Kristen Coveleskie '06, Kristy Fallica '06, Sarah Melker '06, and Andrea Piskora' 04—worked with Schenck on Slippery Slope at various stages of its production, thanks to Schenck's participation in the Bryn Mawr-Haverford Career Development Office's extern program.
Schenck has made numerous documentaries for nonprofit organizations such as Amnesty International and Project Renewal and is member of Wide Iris, an alliance of filmmakers focused on issues of social justice, environmental sustainability, and arts advocacy.