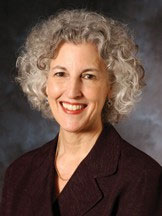 Poet and critic Madelon Sprengnether '60 has been elected to a Regents Professorship at the University of Minnesota, where she has taught English and creative writing for more than 30 years. The Regents Professorship is, according to the university, "the highest recognition for faculty who have made unique contributions to the quality of the University of Minnesota through exceptional accomplishments in teaching, research and scholarship or creative work, and contributions to the public good."
Sprengnether graduated summa cum laude from Bryn Mawr in 1960 with a double major in English and French and received her Ph.D. in English from Yale University in 1972. She has published scholarly work on Shakespeare, women writers, feminist psychoanalytic theory, and Freud, in addition to publishing two books of poetry—The Normal Heart and The Angel of Duluth—and two memoirs—Rivers, Stories, Houses, Dreams and Crying at the Movies: A Film Memoir.
An early practitioner of feminist literary criticism, Sprengnether was among the founders of the University of Minnesota's women's-studies program and its Center for Advanced Feminist Studies. As director of the university's creative-writing program, she undertook a thorough overhaul of the program's curriculum, shepherding it to national prominence.