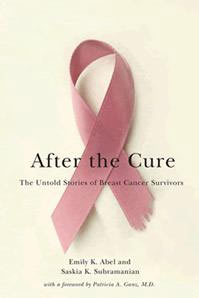 Saskia Subramanian '88, the vice-president-elect of the Bryn Mawr College Alumnae Association and a research sociologist at the University of California, Los Angeles, has joined forces with a colleague to publish After the Cure: the Untold Stories of Breast Cancer Survivors.
The book delves into the post-treatment symptoms caused by radiation, chemotherapy and surgery, "giving voice to a neglected aspect of the breast cancer experience." It follows Subramanian's 2008 documentary film, Beyond Breast Cancer: Stories of Survivors, which was screened at the Baltimore Women's Film Festival and also at Bryn Mawr's Katharine Houghton Hepburn Center.
Subramanian and co-author Emily Abel, who is herself a survivor of breast cancer, use material from scores of interviews collected as part of an interdisciplinary UCLA study funded by the Susan G. Komen Foundation. The two have also created a Web site, where breast-cancer survivors are invited to share their stories and learn about other survivors' post-treatment experiences. For more information, see afterthecure.com.