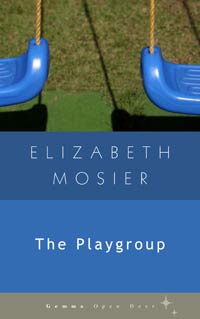 Elizabeth Mosier '84 (her classmates may know her as "Libby") is celebrating the publication of The Playgroup, a new novella published as part of Gemma Media's "Open Door" series. The series is described by Gemma as "an innovative program of original works by some of our most beloved modern writers, originally designed in Ireland to promote adult literacy."
"Sarah Holloway is a frustrated painter, sketching on the backs of shopping lists and sharing her studio with a washer and dryer. Abandoned by her mother, she has tried to hide her childhood wounds by healing others through art therapy,"  says the publisher's summary.
Upcoming Readings
Saturday, Oct. 22, 2 p.m.: Bryn Mawr Club of Washington, D.C. Book Talk for Bryn Mawr alumnae/i in Bethesda, Md. (Literacy Council of Montgomery County fundraiser).  RSVP to mimivr@yahoo.com required.
Wednesday, Nov. 2, 7 p.m.: Book Discussion with mothers at Children's Book World, Haverford, Pa.
More About Libby Mosier
"During her daughter's first two years, she has faked her way through motherhood with the help of women in her neighborhood playgroup. She hopes she has gotten the hang of it when she learns she is expecting another child. Then, a routine test reveals a mysterious mass in her unborn baby's abdomen. The sonogram awakens an old fear that her children have inherited her damage—and uncovers a secret that could end her marriage."
Mosier, who teaches courses in the Bryn Mawr Creative Writing Program, says that the "Open Door" series presented an ideal opportunity to give shape to some material that she had repeatedly worked and reworked as she tried to achieve some perspective on her own experience of motherhood. "When my editor, Brian Bouldrey, called me to ask if I would contribute to the series, I offered The Playgroup with the idea that one potential group of 'reluctant readers' might be the sleep-deprived mothers I knew and once was.  Women who—like the mothers in my real-life playgroup and in the fictional The Playgroup—need and seek diversion and philosophical discussion, even while they only have time or attention for Parents magazine."